It's Love & Bond 's recent charity project  featuring SPCA Homing Dogs. They are now waiting for  their lifetime partner .
If you are interested to adopt them, please visit SPCA's Homing Page , bring  more  joy & happiness to your family.
Magazine Interview about the project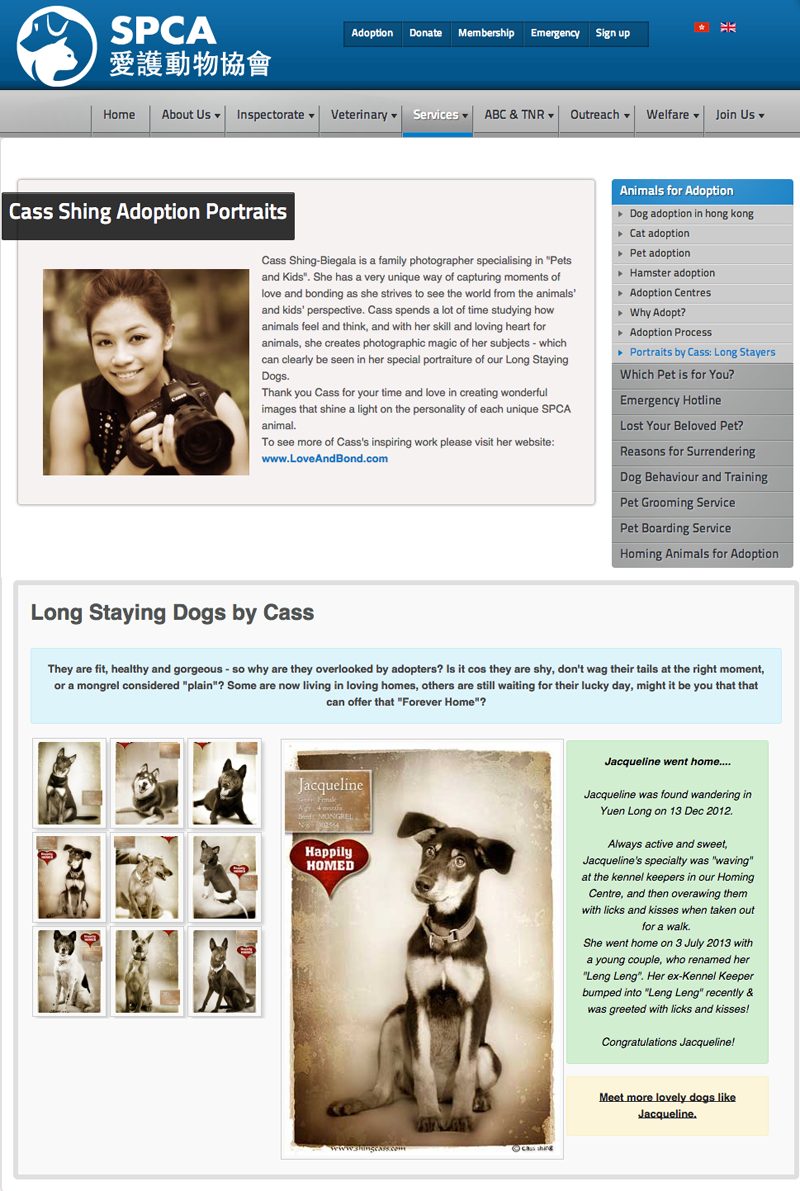 It all begins with my visits to SPCA at the end of 2012. I visited the homing dogs in different shelters and wondered how people can abandon their pets, their spiritual partner which lives with them for so many years. An unrealistic wish in my mind emerged:  no more dogs will be abandoned, dogs waiting for a home will become a history.
This project is not only about helping them to be adopted.  I wish to speak for the animals. Their feelings and emotions shouldn't be ignored just because they are less intelligent in a human way of judgment.
Pets, especially dogs & cats are not just any other animals, they are our life companion. They build up emotional bonds with us in everyday life.
Wolves are wild animals, but dogs are not. For ages, dogs are bred to live with human. Dogs in shelters that had lost their human companion might become vulnerable, emotional, weak and afraid. Every year people abandon so many pets. How many of them can go to SPCA and other shelters, how many are left on the street? How many end up in euthanasia? Abandoning or sending to Shelters shouldn't be an easy solution when someone wants to give up on their pet, just like taking stuff to second hand market.  Dogs and Cats have feelings and memories.
During the photo shooting process, I felt that shelter dogs' emotions are different from dogs which have their own home. They are more insecure, sensitive and nervous, especially when they are outside their familiar shelter room. It's seems their mental world is limited to the shelter, even to their room. I suddenly understand that even SPCA can provide the best care, the cleanest environment, the best food, toys and walks, what they cannot provide is a stable love for the homing animals. Staff said even though they love dogs so much, they need to hold back their feelings and keep mental distance. Making dogs depressed again when leaving the shelter would be too high price for showing love.
I wish dogs waiting to be adopted will become a history. I wish when human stop ignoring, underestimating, denying animals' spirituality, then abandoning will stop.
Thank you SPCA Executive Director Sandy and Welfare Operations Manager Judy for support me to begin this project. Thank you dog trainers Beanie and Lily, and all kennel staffs. I believe we all have the same life time mission, to promote love, care and attention for animals.